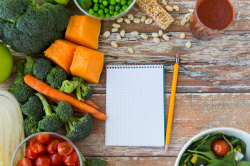 It is 5:30 pm and you are heading home from work. You are almost home when it dawns on you that you forgot to take out the frozen meat from the freezer and that there are practically no vegetables left in the fridge. Ouch!!! You pull over at the next strip mall and look for a take-out place to save the day.
Wether you live alone or have a family to feed - it is not easy to plan, shop for or cook a meal from scratch at the end of a long day. This is probably why the fast food industry is booming and our health is suffering.
I used to think that planning my meals was unnecessary and would create a strict regimen (I am a free spirit) but meal planning actually frees us up from worry and stress and improve our and our family's health and wellness. Are you a meal planner???


Meal planning is awesome because:

It will save you lots of time and money.
When you plan your meals ahead, you will know where to go and what to get in the supermarket. You will be less susceptible to "impulse buying". Believe, me ... this gets me into trouble all the time. When I have no plan, my grocery bill triples.

You will eliminate needless trips to the store. This will save you tons of time and money. (Hello, I used to be an expert at this!)

You will also save lots of $$$ when you cook from scratch. Packaged food costs a lot more! You will be amazed when you start to compare what it cost to make a meal for 4 from scratch versus buying a pre-made meal.

You will not waste your precious time when you get home trying to figure out what to make.

Knowing what's in your fridge and having a plan for how you will use it will help you avoid wasting food and money.
It will drastically improve your health.

When you're a meal planner kind of gal, you have so much more control over what you eat .. and you can consciously choose to improve the ingredients you use which will lead to a healthier body, mind and spirit.

When you choose your meals in the moment you will probably use a few stand-bys like macaroni and cheese, hot dogs or burgers, frozen pizza and such - leaving you with no variety and lacking precious nutrients.

If you BEGIN planning and cooking dinner when you get home, it could be quite late before you're sitting down to eat it. The closer to bedtime it is when you finish dinner, the more likely you'll have problems with digestion and weight gain!
HOW TO PLAN YOUR MEALS FOR THE WEEK
Just do it. Simple or not, a menu plan won't help you if you don't make one. Weekly menu planning will pay off in the long run.
Plan while you are in the kitchen - this way you can see what you have or do not have on hand.
Keep an active grocery list on your fridge throughout the week. Or use your smartphone since that is with you all the time. I tend to forget my lists :)
Recycle. After you've made menu plans for a few weeks, the beauty of the activity shines through: recycle them. Instead of an ambitious plan for 30-day menus, tuck completed menu plans in a file folder or envelope and alternate them. I have two weeks worth and it i good enough for my family. They are seasonal however.
Aim for balance. Look for balance between heavy and light meals, vegetarian and meat based dishes, and a good variety of fresh and seasonal fruits and vegetables.
Keep it small and simple. Think, "next week." Seven simple dinners, one trip to the supermarket. Resist the urge to go through all your fancy cook books and select recipes that you have been eyeing for years. Slow and steady builds menu planning skills and shows you the benefits of the exercise. This tip will save you from failing!!
Set aside some time each week. 30 minutes or so. Every week. Religiously. Once you have your plan down and your gorcery list to go with it, you will not have to do this again. When you do not plan, you are planning to fail.
Plan on leftover dinners. Leftovers can be made into great dinners if you know how to create new dishes from them. I became really good at this with time since I used to dislike eating leftovers.
Make it a team effort. Ask your family members what meals they would enjoy eating and make the list accordingly.
Consult a health coach to receive recommendations for a personalized plan that suits your dietary needs. (My VIP Days are perfect for this. Contact me to find out more.)
Here is the thing.
A meal plan will serve you, not imprison you.
Eating more home-cooked meals can have a HUGE positive effect on your health. Don't underestimate the power of real food.
Happy planning and cooking!
If you feel a bit lost and would to improve your skills around this topic with some support - I would like to invite you to my upcoming afternoon intensive - THE NOURISHING KITCHEN which will take place on Saturday March 11th 2017 from 2:00 -4:30 PM at my home (Central NJ).
For details on this workshop and to register click here.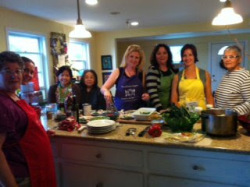 If you are not local to my area - feel free to call me and let's chat about how you, too can get some personalized guidance to help you in this arena 732 356 5051.