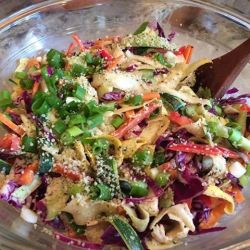 Today's recipe is a super simple one to make.
Soba noodles are Japanese noodles made from buckwheat flour (wheat is often added, so check the ingredients before purchasing). Eden Foods makes a 100% buckwheat version. They have a nutty flavor and slippery texture. Soba noodles are great in hot or cold dishes.
Since buckwheat does not contain gluten, buckwheat noodles are a good choice for people following a gluten-free diet. Buckwheat has a high protein content. Just two ounces of 100 percent buckwheat soba noodles contain over eight grams of protein. Buckwheat is also great for reducing varicose veins and rich in prebiotics. Even though soba noodles contain a significant amount of carbohydrates per serving, their high fiber and protein content help slow down the digestion of the carbohydrates. Buckwheat is good source of thiamine. If your diet lacks adequate sources of thiamine, you may be more likely to suffer from digestive problems, cataracts or heart failure. So if you have never tried buckwheat, I encourage you to do so.
If you do not want to use buckwheat noodles, grab your Spiralizer and make some organic zucchini noodles and use that instead.
Serves: 3
Ingredients:
1/4 lb 100% buckwheat Soba noodles
1/2 cup minced scallions
1 red bell pepper
2 carrots
1 Tbsp unrefined sesame oil

Sauce:
2 Tbsp organic peanut/ almond butter
2 Tbsp brown rice vinegar
1 1/2 Tbsp wheat free, low sodiu, Tamari soy sauce or Coconut Aminos
1 Tbsp local honey
2 medium cloves garlic, chopped
2 1/2 tbsp minced or grated fresh ginger
2 Tbsp water pinch cayenne to taste salt and white pepper to taste
Directions:
Bring lightly salted water to a boil and cook soba noodles according to package instructions.
While water is coming to a boil, blend sauce ingredients together in a blender. Chop up scallions.
Slice or spiralizer your red bell pepper. Cut the carrots into small pieces.
Heat a tablespoon of oil over medium high heat.
Add the veggies except for scallions and stir fry with tongs for 2-3 minutes or longer. Do not overcook.
Transfer to dish.
Drain noodles and add another tablespoon of oil to the pan.
Add the noodles to the hot pan and stir fry for a minute. Add veggies and mix.
Pull off stove, add sauce and mix. Drizzle scallions on top and serve.
You can add a pasture raised egg if you want to make it more rich.
You can make this dish with spiralized organi zucchini instead of the buckwheat noodles if you wish.
En-JOY!!!
Csilla