Today I am sharing with you a recipe for a delicious Hungarian dish called lecsó (pronounced as "letcho"). It is the perfect summertime meal since it takes advantage of the abundance of fresh peppers and juicy tomatoes. It is kind of similar to ratatouille and consists of four simple ingredients: tomatoes, peppers, onions and some fat.
Of course the argument is always about what to use for fat. Traditionally, we use bacon fat but in honor of Meatless Mondays, we can make an exception and use olive oil or coconut oil in this recipe. (I do recommend you try it with some nitrate free bacon or even better, Mangalitsa bacon fat if you can get a hold of that.)
There are many varieties of lecsós and every household has their own way of preparing it.
You can eat this dish for dinner or even for breakfast. For breakfast, add in some eggs. For a heavier dish, add in some rice. Traditionally it is eaten with a slice of crusty bread and we also often add in some Hungarian sausage.
Best proportion for this dish is: one part onion, three parts tomatoes and four parts peppers.
My suggestions is to only make this dish when the tomatoes and peppers are at their ripest. It is worth waiting! It is also worthwhile to peel the tomatoes. You can simply plunge them into boiling water and once the tomatoes are cool, their peel will easily slip off.
Lecso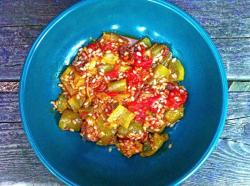 Prep time: 15 minutes
Cooking time: 45 minutes
Check out my FB video here:
https://www.facebook.com/csilla.bischoff/videos/10155157528174179/
Ingredients:
1 lb tomatoes, chopped
1 large onion or 2 medium ones, diced or sliced2 1/4 lb Hungarian peppers (you can substitute with Italian frying peppers or banana peppers), sliced
Hungarian paprika
Salt
Black pepper
Garlic (optional)
Olive oil (at home we used to use sunflower oil when we wanted the vegetarian version)
Directions:
Dice the onions or cut them into half slices, and saute them in oil in a heavy bottomed pot or deep skillet.
After the onions have softened, add a teaspoon of Hungarian paprika (sweet, hot, or a mix can be used). The amount is flexible - 1- 2 Tbsp. Take the pan off the heat while you do this, so as not to burn the paprika. This is important!
Remove the seeds and cut the peppers into slices.
Add your peppers and cook till they start to become translucent about 10-15 minutes.
Then add your tomatoes. (Tomatoes ideally should be peeled.)
Add a teaspoon of salt and if you like some black pepper. We usually add some fresh chopped garlic, too. Stir, and cover.
Let this simmer over medium-low heat until the peppers become soft, about 10-15 minutes.
Serve this Hungarian comfort food with some crusty bread.
Lecsó with rice:
Fry 1/2 cup rice in a little oil. Prepare the lecsó according to the basic recipe above. Then add the rice and leave to swell in the vegetable juices, adding a little water if necessary. Extra salt is usually required if you add more water.
Lecsó with eggs:
Beat the eggs (1-2 per person) until smooth, and add a little salt. Pour over the cooked lecsó, and heat the mixture, stirring continuously, until the egg begins to set.
Note: It is worthwhile to save some of this dish and puree it in a food processor and save it for another day when you eat it on top of some toasted bread.
Jo etvagyat! Bon appetit!