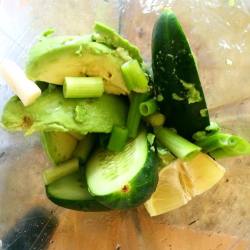 Smoothies are so easy to make and they are such a simple and quick way to add more fruits and vegetables to your existing diet. Smoothies are also delicious, nutritious and kids love them, too!
Smoothies are also a great way to add lots of greens into your diet.
Here are some of my tips on how to make smoothies that rock.
1.
Add your liquid.
As a base you can use
clean water, coconut water, coconut milk, unsweetened almond milk, any other nut or seed milk
(cashew milk, Brazil nut milk, sesame seed milk, pecan milk .. etc),
herbal tea.
Don't use too much liquid if you want your smoothie to be thick. I do not recommend fruit juice for the base of your smoothie. The reason? Just way too much sugar.
2.
Add some protein
by blending in
raw almonds, hemp seeds, chia seeds or some nut butter.
As far as protein powders go I recommend
hemp protein powder.
Hemp seeds and hemp protein powder can be found at health-food stores or even stores now such as Wegman's. They're high in healthful omega-3 essential fatty acids, protein and fiber, and they blend in easily. Hemp seeds are my personal favorites. I also add them to salads.
Protein powders are usually processed with high heat which completely manipulates the proteins, making them unrecognizable to our bodies. Most protein powders are very low quality. Please, be careful with them. Read labels and check every single ingredient. Sprouted would be the way to go in my opinion. I like the brand SunWarrior which is a sprouted rice protein powder. I personally like to stick with whole foods.
3.
Go green.
Add a handful or two of
spinach, or any other mild greens
which will blend easily into a fruit smoothie without really changing the taste of it. (Tell your kids it is Shrek Juice.) Once your taste buds can handle it you can graduate to kale, bok choy, arugula, collard, Swiss chard. The secret to smoothies with greens is to not use the same greens every day. I will not get into why in this article .. just trust me on this now. Vary the greens. It is important for you health.
4.
Add some super foods.
They will boost the nutrition of your smoothie. Here are some of my favorites:
raw cacao
(for an amazing chocolate smoothie),
raw cacao nibs, ground flax seeds, goji berries, coconut products
(oil, shreds, flakes, meat),
bee pollen, hemp seeds, chia seeds, aloe vera, nut butters, maca
(great for endurance and libido),
chlorella
... etc.
If you love the flavor of coffee try adding DandyBlend. It is a coffee alternative and you can easily mix it in with your chocolate smoothie for that great coffee/mocha flavor. Add some vanilla liquid stevia (they also have hazelnut flavor, too) and voila you made yourself a coffee style drink that is actually good for you. Move over Starbucks! (Rather than taxing stress hormones and your adrenal glands like coffee would, this nourishes the liver and kidneys, has a gentle cleansing bonus for the cells and is absolutely delicious.)
5.
Sweeteners:
most smoothies include enough sweet fruit to bypass a sweetener to enhance the taste, but if not, here are some good ones I would recommend:
grade B maple syrup, dried dates, raw honey, stevia, coconut nectar
. Do avoid agave nectar. It is not ideal for us since it is super high in fructose (about 85% fructose!!) which is much higher than plain sugar. Agave nectar can contribute to insulin resistance when consumed in large amounts. This sweetener makes regular sugar look healthy in comparison.
7.
Add spices. Cinnamon
is great for blood sugar control. In the colder month add some
ginger
or
cayenne
which will warm you up instantly. If you have some extra pumpkin puree on hand you can make a great pumpkin pie smoothie by adding is some cloves, nutmeg and pumpkin spice mix.
Experimentation is key! Let your imagination go wild. You've got to try different variations to find the flavors, textures you like.
If you live in Central NJ, come and join me for a FREE
Fall Smoothie 101 Demo
at
Valley Integrative Pharmacy
in Bedminster on Tuesday September 21st at 7 pm. Reserve your seat by calling the pharmacy 908-658-4900 or email
janet@valleypharmacyrx.com.