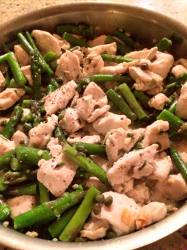 Serves: 4
4 boneless skinless chicken breasts, pounded to 1/2-inch thickness
Sea salt and fresh ground black pepper as needed
3-4 Tbsp organic butter
2 Tbsp capers, drained (tip: for more intense flavor, mince 2 teaspoons of the capers, leaving the rest whole)
2-3 poblano peppers (pictured with asparagus )
2/3 cup white wine (optional)
Juice from 2 lemons (about 1/3 cup)
1/3 cup chicken broth, or water
Season chicken breasts generously with salt and pepper. Add the butter to a large skillet, and place over medium high heat. When the butter is hot, add chicken and cook for about 4 minutes per side, or until browned and just cooked through. Remove to a plate, cover loosely with foil and reserve.
Add the peppers, capers and wine to the skillet. Turn heat up to high, and boil for 2-3 minutes, or until the wine has reduced by about half. Be sure to use a spoon or spatula to scrape the caramelized bits from the bottom of the pan.
Add the lemon juice and chicken broth, and bring to a boil. Cook for 1 minute, reduce heat to low, and add the chicken back into the pan. Toss the chicken in the sauce for a few minutes until heated through.
Check the seasoning, serve immediately.