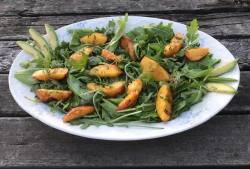 This is a super tasty and easy to prepare salad. My tip is to grill enough peaches to have for breakfast .. serve them over steel cut oats, quinoa porridge or simply with a splash of home made almond milk or coconut milk and top with grain free granola.
Ingredients:
5 ripe peaches
Arugula
Honey
Lavender Vitality essential oil from Young Living
Extra virgin olive oil
Fresh lemon juice (1 small lemon)
Pink salt
Pepper
Optional: toasted hazelnuts, avocado slices, goat cheese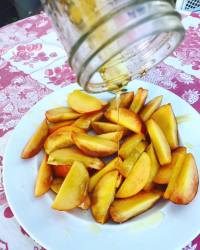 Directions:
1. Half the peaches and scoop out the seeds.
2. Add 2 drops of Young Living Lavender Vitality essential oil to some honey and stir.
3. Drizzle over your peaches.
4. Place the peaches on a grill preheated to medium.
5. Let grill for 4-6 minutes uncovered until you see noticeable grill marks.
6. Gently turn them over with a metal spatula for one more minute.
7. Cut peaches into wedges and let them cool.
8. Place them over fresh arugula and drizzle with extra virgin olive oil and fresh lemon juice.
9. Season with salt and pepper.
10. You may add some avocado slices, toasted hazelnuts and goat cheese if you wish.
See this short video I made for my FB page.