Summer parties are my absolute favorite. It is so easy to prepare simple recipes with "good-quality ingredients," in a season when so much great produce is available.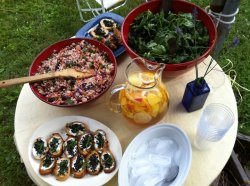 My first tip is to go to your local farmers market and pick up some fresh, local, seasonal produce. You can never find that selection & quality in a regular supermarket. Many markets also sell local cheeses, fresh bread and even grass-fed beef, lamb kebabs and high quality sausages. Depending on where you go, you can almost do your entire food shopping. (For listings on local markets go HERE.)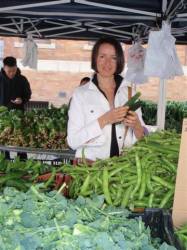 Here are some suggestions for you to pick:
corn on the cob (organic !)

mesclun greens or any other lettuce greens

snap peas

cucumbers

onions

kale, Swiss chard or collards

squashes

tomatoes

blueberries

peaches

different herbs (basil, oregano, dill, mint ..., etc)
Grilled Veggies:
Onions, tomatoes, red bell peppers, summer squashes and eggplant are especially delicious on a shish kebab or just grilled alongside your choice of meat. Just thread them onto a metal or wooden skewers. I like to marinade mine in olive oil + balsamic vinegar, infused with garlic and oregano before grilling to add some additional flavor.
Corn on the Cob:
For a tasty corn on the cob, use some good organic or grass-fed butter with pink salt or mix extra virgin olive oil, fresh lime juice and chili powder into a plastic bag, add the grilled corn on the cob, shake well to coat, and serve warm.
Fresh Fruit:
Try grilling peaches or even plums right on the barbecue, or just toss together a cool and refreshing fruit salad. I like to squeeze some fresh lemon juice over it and add some fresh mint. For a fancier one, add raisins soaked in pure vanilla extract and shredded coconut flakes. Yum!
Salads:
Store bought potato salad, macaroni salad or cole slaw is usually drenched in
mayonnaise and the oils that are used in almost all of the mayos are super damaging to our health (major cause of inflammation - see why).
For a healthier Fourth of July side dish, make a homemade pasta salad using whole wheat or even better brown rice or quinoa pasta and dress it with extra virgin olive oil and a splash of raw apple cider vinegar or lemon juice and fresh herbs.
If you want that creamy texture of the mayo, use plain, full fat Greek style yogurt and Dijon mustard (Annie's is a good brand).
My favorite salad at this time of the year is organic spinach mixed with fresh sliced organic strawberries, purple onions, poppy seeds and slivered almonds. Dress with olive oil and lemon juice + pink salt.




Barbecue Sauces:

Most commercial sauces are laden with high amounts of sugar or even worse, corn syrup. Instead make your own at home. (See my recipe below)
Or opt for a blend of herbs, spices, olive oil, and balsamic vinegar or fresh lemon juice as the base.
Burgers and Hot Dogs:
I recommend opting for nitrate free hot dogs and seeking out grass-fed burgers. You can also make some turkey burgers. (Ground turkey, eggs, black pepper, garlic, cumin or thyme).
Delightful Desserts:
Can't imagine your Fourth of July food finale without Cool Whip and jello?
Here is my suggestion. Look for organic heavy cream and whip it yourself. Instead of adding white sugar, go for a touch of pure maple syrup or even better, a few drops of pure vanilla extract. It might take a few minutes more, but YOU are worth it! As far as jello goes - see my healthy version below. Or make some blueberry crumble or strawberry rhubarb crisp. Both easy to make and sure to delight anyone's taste buds. Top them with some coconut milk based ice cream from Larry and Luna. Yum!!
Your Assignment:
Visit one of the markets in your area and bring home a basket full of fresh produce. Make a salad or two. Prepare a fresh fruit salad. Marinate your veggies and meat using olive oil and fresh herbs. Relax, enjoy the good food and company. And remember to incorporate these ideas into your daily meals throughout the whole season.
RECIPES
Barbecue Sauce
Ingredients:
1 cup of ketchup
1/2 cup chicken stock
2 Tbs Worcestershire sauce
1 tbsp honey
1 tbs coconut oil
1 tbs dill pickle juice
1 tbsp prepared yellow mustard
1 tbsp lemon juice
1 1/2 tsp onion powder
1 tsp garlic powder
1 tsp sea salt
1/8 tsp Kelp with cayenne granules (optional)
Dash of pepper
Directions:
In a small saucepan, combine all ingredients and bring to boil. Turn heat down to low and simmer about 30 min. Adjust sweetness to your family's taste. Makes about 2 cups. Make a big batch and freeze for busy weeknights.


Cremini Mushroom Sliders (adapted from Candice Kumai)

Ingredients:
1 tbsp olive oil
1 1/2 cups finely chopped cremini mushrooms (about 3 ounces)
1 yellow onion, finely chopped
2 garlic cloves, finely minced
1/4 cup finely chopped fresh parsley
1 tsp sea salt
1/4 tsp black pepper
1 pound grass fed ground beef
8 gluten free dinner rolls (or skip these and serve over salad greens)
2 plum tomatoes, thinly sliced
1 avocado, halved, thinly sliced
1/2 head Bibb lettuce (optional)

Directions:
Heat the oil in a medium nonstick skillet over medium heat. Add the mushrooms and onion. Cook, stirring often, until the onion is soft and golden brown, about 15 minutes. Add the garlic and cook for about 4 minutes, just until fragrant. Stir in the parsley, sea salt, and pepper. Turn off the heat and transfer to a medium bowl to cool. Place the ground beef in a large bowl, add the cooled mushroom mixture, and gently fold the two together.

Divide the ground beef mixture into 8 equal balls, and then gently form each into a semi-compact 2 1/2 – to 3-inch-thick patty. Heat a nonstick grill or sauté pan over medium-high heat for 2 minutes. Coat the pan with cooking spray and pan-sear the burgers on each side until browned, about 2 minutes per side for medium. Transfer to a plate while you toast the rolls, cut sides down, until golden and etched with grill marks from the pan, about 1 minute.

Place each patty on a bun bottom and top with a tomato slice, some avocado, and some Bibb lettuce, if desired. Spread desired condiments such as Dijon mustard, Annie's Ketchup, or the BBQ sauce above on the other bun half, and top off the slider.



Raw Berry Crumble







Ingredients:
1 box of blueberries or organic strawberries
3 pitted dates (optional)
1 tsp fresh lemon juice
1/2 tsp cinnamon
Pinch of sea salt

Crumble topping:

1/2 walnuts or almonds
3-4 dates pitted
1-2 tsp cinnamon
Pinch of sea salt
1 Tbs flax seeds, ground
1 Tbs chia seeds

Directions:
For the berry mixture:
In a food processor, add dates, lemon juice, sea salt and cinnamon. Blend till smooth. Add strawberries or blueberries and pulse a bit. You do not want the berries to be totally crushed and liquidy. Remove from food processor and to pie plate or small bowls. Top with crumble topping. (See directions below.)

Option:leave the dates out if you like less sweetness or watching your sugar intake and just pulse the berries with the lemon juice, sea salt and cinnamon.

For the crumble topping:
Place almonds or walnuts in food processor and blend until fine. Add dates, cinnamon, chia seeds, flax seeds and sea salt and process until crumbly. Sprinkle on top of berry mixture.

Note: You may use the crumble topping as a base for a raw pie. Just press mixture into a pie plate.

Berry Kanten (Jell-O)




This vegetarian version of Jell-O is loaded with antioxidants and vitamin C from the fresh berries. Agar flakes are a nutritious sea vegetable used to firm up the dessert without having to use gelatin made from animal cartilage!

Ingredients:
4 cups apple juice
1 pinch sea salt
7 tsp. agar flakes (find these at health food stores)
2 tsp. kuzu diluted in 1/4 cup cold water
1 TB rice syrup (optional)
2 cups fresh organic berries

Directions:
Bring apple juice, agar flakes and sea salt to a boil. Simmer, covered, for about 10 min. When the flakes have dissolved, add the rice syrup and then the diluted kuzu. Cook one minute. If using frozen berries, add to mixture and cook several minutes more. If using fresh berries, pour apple juice mixture over fresh berries in a shallow glass cake pan. Cool to room temperature. When serving, you can garnish with fresh mint leaves.

How to make Dairy Free Whipped Cream - click here.



Key Lime Tart







For recipe, click HERE.
Red Wine Sangria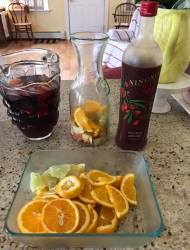 For recipe, click HERE.