This sangria is awesome for any summer get together.

The addition of the Ninxgia Red goji berry superfood drink from Young Living will not only make it naturally sweeter but will also help you prevent hangovers!!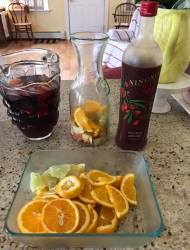 Ingredients:
3 cups of your choice of summer fruit: grapes, peaches, nectarines, cherries, blueberries, strawberries, blackberries, ... etc.
1/2 to 1 cup freshly juiced orange juice
1/2 cup Young Living Ninxgia Red superfood juice
1/2 orange, thinly sliced
2 organic lemons, sliced
1 lime, sliced
1 cup of seltzer or naturally carbonated mineral water
6 drops of Lemon Vitality essential oil
6 drops of Lime Vitality essential oil
1 bottle of sweet red wine
If more sweetness required - raw honey or liquid stevia
Crushed ice (optional)

Mix all ingredients together except ice. Next let your sangria chill in the fridge for at least a half hour. The sangria fruit flavors will expand and increase with time. The longer it can marinate before serving, the better it will taste.

To serve: Pour it over ice if you'd like, or simply serve cold. Have spoons ready to get that yummy fruit out.