This is a very rich and delicious raw tart.
Crust:
2 cups macadamia nuts
1.5 cups coconut flakes
5-6 pitted dates
1/8 cup coconut oil, melted
Pinch of Celtic sea salt
Directions:
In food processor fitted with an S-blade, pulse to grind the macadamia nuts and sea salt until almost finely ground.
Drop in the dates and allow to combine.




Press the mixture into a deep pie dish or tartlet form, all the way up the sides.

Filling:
2.5 large ripe avocados, peeled and pitted
1 cups fresh lime juice, about 8 limes (for that yummy "imey" taste add in some shredded lime skin)
2 ripe bananas, sliced
2-4 dates (or 3/4 cup of organic maple syrup preferably Grade B)
3 Tbsp coconut oil, melted
Pinch of Celtic sea salt

Directions:
Blend all of the filling ingredients in food processor.
Pour into tart or pie from and even out with spatula.
Sprinkle with coconut flakes.
Refrigerate for about 1-2 hours.
If you want to speed up the process place in freezer.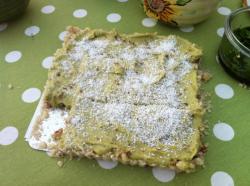 En-JOY!

Csilla