My whole family LOVES this soup. Enjoy!!!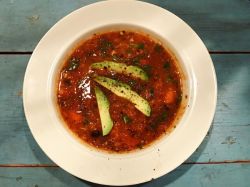 Video: https://www.facebook.com/csilla.bischoff/videos/10155623377794179/



Total time: 45 minutes
Serves: 6- 8
Ingredients:
2 Tbsp extra virgin olive oil
1 medium white or yellow onion, finely chopped
1 large carrot, scrubbed or peeled and finely chopped
1 red bell pepper, finely chopped
1 jalapeño or Serrano chili, finely sliced (leave out if you want your soup mild)
2 cloves garlic, pressed or finely chopped
1 Tbsp ground cumin
1 Tbsp chili powder (or less if you do not like spicy things)
1 15 ounce can diced tomatoes (include the juice in the can. I like to use the roasted tomato one from Muir Glen.)
1 25 ounce can black beans, drained and rinsed (or use two 15 ounce cans from EDEN)
1 bay leaf
1 quart veggie or chicken stock (or homemade bone stock)
2 cups clean water (or more stock)
2 1/2 tsp sea salt or pink salt, divided
3/4 tsp course black pepper
Fresh cilantro for garnish
Sliced avocado for garnish
Leftover shredded chicken breast
1. Preheat a large Dutch oven or soup pot over medium heat.
2. Add the onion, carrot, bell pepper and jalapeño with 1/2 teaspoon salt and 1/4 teaspoon pepper and sauté until soft and the onion is translucent, about 7 minutes.
3. Turn the heat to low (to prevent burning the spices) and add the garlic, cumin and chili powder; cook 2 minutes until the spices are fragrant.
4. Turn the heat to medium high and add the tomatoes with their juices to deglaze the pan, using your wooden spoon to scrap up everything on the bottom of the pan.
5. Add the drained and rinsed black beans, stock, water, 2 teaspoons salt, 1/2 teaspoon pepper and bay leaf.
6. Bring to a boil and quickly reduce to a simmer. Simmer at least 20 minutes to let the flavors combine. Adjust seasoning to taste if needed.
7. Add two cups of shredded cooked chicken to your soup, stir, and let simmer at least another 5 minutes to let it absorb some of the soup's flavor.
8. Garnish with fresh cilantro and a few slices of avocado.
9. Store leftovers in an airtight glass container in the refrigerator up to 5 days, or in the freezer up to 3 months. BOOM!
Note: Pay attention to what's in your spices and other ingredients, only use ingredients without fillers and preservatives. Especially your chili powder or taco seasoning, look for simple ingredients without any added sugar.