Do you have food sensitivities?
Food sensitivities are not the same as food allergies. There is no acute attack, nor it is usually life threatening. However, when food sensitivities are ignored, over time chronic inflammation will build up inside our bodies and that may threaten our health down the road.
Take this quiz and see what your answers say.
Do you get tired after eating?
Do you frequently clear your throat after meals?
Do you feel that your pants feel tighter by the end of the day?
Do you crave certain foods (like bread, bagels, chocolate, cookies, cheese or other snacks like these) and feel the urge to eat more even if you feel full?
Does your pulse or heart rate become rapid after eating certain foods?
Do you have joint pain, or inflammation for which you haven't found a cause?
Have you been diagnosed with an autoimmune disease?
Do you bloat, become gassy or feel pain after eating?
Have you been exercising and really watching your calorie intake and your weight is still not budging?
Do you have asthma?
Do you suffer from headaches?
Do you have candida/yeast overgrowth?
Do you have difficulty focusing?
Do you suffer from mood swings?
Have unexplained depression, irritability or anxiety?
Do you have constipation or frequent diarrhea?
Do you get frequent skin rashes, eczema, itchy skin or psoriasis?
If you answered yes even to ONE of these, you might have an un-diagnosed food sensitivity. If you answered yes to 3 or more you most certainly do.
If you are tired of being tired, uncomfortable and unfocused, sick of not knowing what is causing your symptoms, take some time to figure out what food or foods might be the culprit for you.
Do not let your immune system become overactive and lead to a host of symptoms and conditions down the road.
I have seen too many people who had nagging symptoms but they never addressed them. They ignored them or simply medicated the symptoms to suppress them. Lots of people are still unaware that common foods such as eggs, corn, soy, wheat, dairy, peanuts, nightshades, citrus etc. may cause all kinds of symptoms (from achy joints to migraines).
The only way to know what foods you are sensitive to (aside from medical allergy testing) is to eliminate certain foods from your diet and then add them back slowly over time. This is called the elimination diet.
It is a simple concept. If you get rid of the foods that commonly cause negative reactions, you may feel better and able to improve your well being.
If you would like to find out if YOUR health issues, itchy skin, weight loss resistance, digestive issues .. etc are connected to possible food sensitivities, I would love you join us for our
7 Day Fall Cleanse program
starting October 17th.
It is a great way to find out what foods might be causing your chronic health issues. It is also a great way to support your immune system before the cold weather is here.
You CAN do the detective work on your own, but it is a lot more fun to do it with a group. Identifying your own food sensitivities with support and accountability is much less daunting than doing it alone.
In my own life I have found clean eating and detoxing to be the most effective way and relatively easy way to find food sensitivities and get some relief.
This is why I started to offer seasonal cleanse programs 5 years ago.
So why wait till the problems get bigger?
Join us today.
Click here -->> www.shininghealth.com/fall-cleanse

This simple, 7 day program could be your first step to finding your food sensitivities, calming chronic inflammation and helping you lose weight, reduce pain and feel better in your body.
Check out Valerie Pena's transformation since her first cleanse with me back in October 2015.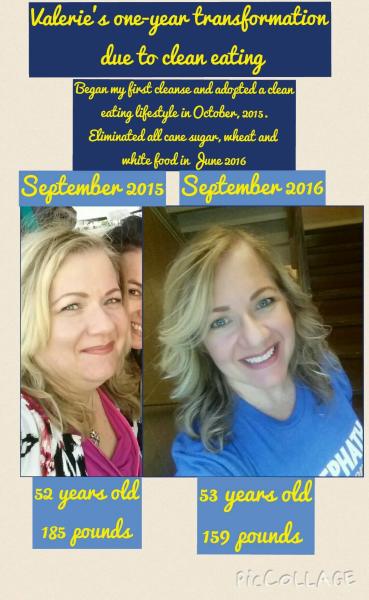 By participating in the Fall Cleanse last year Valerie was able to figure out what foods caused the inflammation in her body and by eliminating them and creating a new way of eating and living, she was able to completely transform her health and life and also influence her family and her friends' health in a positive way.
She had then joined the Winter, Spring and Summer Cleanses and have lost 28 pounds altogether. She is such a rock star and a true inspiration!
"The best part of all this is, that I can feel my body thanking me all throughout the process. Every morning when I wash my face, my cheeks feel less full. My joints no longer ache, my rings are loose - yes, even in the hot weather - my clothes are no longer tight, and I have much more focus and energy. All this from giving my body everything it needs and nothing it doesn't.Am I starving? Nope. I eat 5x's a day. Am I drinking all my foods? No way, I eat real, whole, colorful, nutrient-rich foods that taste great and feel good before and after I eat. Eliminating sugar, simple carbohydrates and processed foods allows me to take the focus off of my next binge or 'fix', and enables me to turn my attention inward to really listen to what my body is telling me. Right now, I can say that it is grateful and happy.
I also spend more time shopping and prepping for meals, but this gives me more family time, is a labor of love, and my family and I will reap the benefits for life. A life filled with health and wellness. There is nothing more that can you ask for.
Thank you, Csilla, for changing my habits, my eating and my health...for good."
You, too, can have similar results and if you join the group you get to hang out with Valerie and other amazing members of the group (many are seasoned cleansers) and receive tons of love, support, inspiration and cheering on.
Join us here.
You'll receive daily menu suggestions, a cleanse guide, lots of easy to prepare recipes, daily emails to keep you on tract + support from me and your fellow cleanse participants through an online community forum.
This is not a fast. You get to enjoy delicious wholesome meals while finding out what foods make you thrive. What have you got to lose??
Look forward to supporting you!
We begin on Monday, but you can join us whenever you are ready. Grab your spot now. Registration closes tonight -->>
www.shininghealth.com/fall-cleanse


Csilla