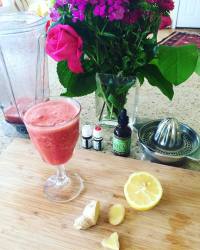 Summer is in full swing here in New Jersey and the days are hot and humid. It is important to keep ourselves hydrated. Often we get tired of drinking water and want something more fun.
Here is a super delicious drink you can mix up in your blender in no time that will not only taste good but will also hydrate you in the heat.
Watermelon is also packed with vitamin A, vitamin C, beta carotene, lycopene (protects you from harmful UV rays) and choline + a specific amino acid that is said to reduce inflammation. This is an excellent post-workout drink, since it relieves muscle soreness and it is said to lower blood pressure.
I love watermelon and try to look for ones that have seeds. The seeds are also beneficial so make sure to use them when you make this drink. Watermelon seeds contain citrulline, which is a natural anti-hypertensive.
Here is the recipe.
Ingredients:
few slices of watermelon

1 fresh lime or half a lemon, squeezed (or Young Living's Lime Vitality essential oil, use 1282536 to order)

small piece of ginger to taste

fresh mint leaves (2-3 sprigs)
Place all ingredients in your blender and blend until you do not have any visible watermelon bits. Serve in a pretty glass with a lime wedge and a sprig of mint. En-JOY!!!
Serves: 1
If you make a whole blender full and you have leftovers, use them to make Watermelon Popsicles. Add a fresh slice of lime and a mint leaf to the mold and pour the watermelon juice in leaving a little bit of room at the top for the mixture to expand.