I refuse to buy Nutella. It is easy to make and so much better for your health than the one at the stores. Commercial Nutella has a high sugar content and has some nasty ingredients.
Here is a simple recipe for you to try:
Ingredients:
1 cup raw hazelnuts
1-2 Tbsp extra virgin coconut oil
2-3 Tbsp raw cocoa powder
1/4 tsp vanilla extract
Coconut milk (or almond milk) - if needed
Sea salt
To sweeten you may use honey, maple syrup or coconut sugar
Directions:
Roast the hazelnuts in the oven at 375 F until they are slightly brown. Make sure to spread them out.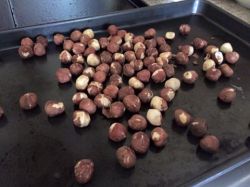 Next, if you want to remove the skins, wrap then in a kitchen towel and rub them vigorously.
Then place the hazelnuts in your food processor and blend them until they form a nut butter. Next add all the other ingredients. Keep blending until you get the right consistency. You might need to play with the amount of liquid you add if the consistency is not right.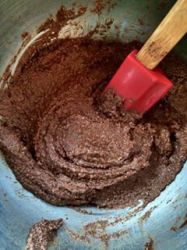 Or simply see the video here:
Enjoy!!!!
If you want to make it very chocolatey - add some melted dark chocolate chips to the mixture.