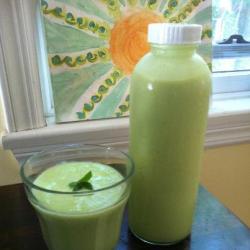 This drink has truly become my favorite drink to make. It takes only a few minutes to prepare. It is refreshing and suprisingly delicious. Make these often and watch your skin glow!
Serves 2
12 oz coconut water

1 avocado

10 mint leaves, plus 2 springs for garnish

1 tsp fresh lime juice

1 cup of ice cubes

2 tsp coconut nectar (optional for extra sweetness - not necessary though)
Put all your ingredients into a blender and blend until smooth. Pour into tall glasses and serve right away. Garnish with fresh mint leaves or a lime wedge and serve with a long spoon.