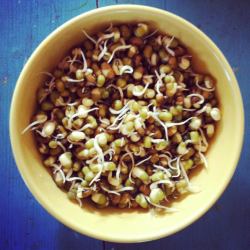 Sprouts are super healthy and are packed with vitamins, iron, and protein. It's fun to watch them grow over several days and making them at home is easy.
One of the easiest sprouts to make is mung bean sprouts.
What are mung beans?
Mung beans are part of the legume family and are a good source of protein.
They are a great source of fiber, low in saturated fat and low in sodium.
The soluble fiber in mung beans captures cholesterol in the intestines, keeps it out of the blood stream, and carries it out of the body.
Mung beans are also a good source of vitamin A, many B vitamins, vitamin C, vitamin D, vitamin E, vitamin K, folic acid, iron, potassium, calcium, phosphorous, magnesium, zinc and more!
Because of the wide range of nutrients contained in mung beans, they offer a whole host of health benefits for the immune system, the metabolism, the heart and other organs, cell growth, protection against free radicals, and diseases such as cancer and diabetes.
Here is how you make mung bean sprouts at home. It is super easy.
I promise.
You will need:
1/2 cup organic dried mung beans (from health food store)

Large glass wide-mouthed jar

Cheesecloth (or another light cloth) to cover the jar (I have done it without, just using my own hand)

Rubber band

Water for rinsing
Directions:
Choose some organic, dried mung beans and rinse them very well before soaking. The sprouts will at least double in size so you only want as many as you can eat in a few days.
I recommend a half cup of beans or less. I find this to be more than enough. Remove any stones or other debris that might be mixed in with the beans. Also remove any broken or discolored beans.
Put the beans in your glass jar and cover them with clean water. Put the cloth over the top and secure with your rubber band. Soak them overnight or for at least 8 - 12 hours.
In the morning, rinse and drain them well. There should not be any water left sitting in the bottom of the jar. If water sits and collects, this is where mold will develop and your sprouts will go bad. Leave the jar in a cool, semi-lit place while the beans sprout (70° is optimal). I use the counter top - in the corner of our kitchen, but where the sprouter won't get knocked over by anyone.
Rinse and drain the beans well about every 8 hours. As long as you are diligent about rising them and not leaving water in the jar you should not encounter problems with slime or mold.
After two days, the tails will be about 1/4-inch long. You can continue growing them for up to four days for larger sprouts. When the sprouts have reached your desired length, give them a final rinse and then transfer to the refrigerator.
Store it in long shallow glass container that has a lid with some paper towels. They usually last about 5 days.
Use them in:
salads

wraps

stir fries (one of the few sprouts that can withstand cooking)

in bean or salmon burger

green smoothies

sprouted bread loafs
Experiment! Have fun! It is all good!
Did you know that when you sprout a a seed it converts some of its sugar content into vitamin C, to act as an antioxidant in the new open air environment?
On a gram for gram basis, sprouts are richer in vitamin C than the older, more mature plants they eventually become, because this moment in their life cycle calls for a high level of vitality. Sprouts can definitely be good for you!