I am a big fan of bone broth - many of you who worked with me or friends with me, know this.
But I am also a huge fan of making and consuming a vegetable based Mineral Broth. I am not vegetarian but in the past few months I have noticed that my body is craving less and less animal protein (will share why in another post) and this broth has become a new favorite of mine.
It is very easy to make and you do not have to cook it for days like you would the bone broth.
All you need is a big pot, clean water, some organic veggies and some herbs and spices. Leave it on the stove for 1-4 hours to simmer and you end up with a broth that is rich in minerals, comforting and nourishing.
Because of its high mineral content it is perfect for restoring the acid-alkaline balance and sodium-potassium balance to the body's organs and glands. The ingredients in this broth have tremendous healing benefits both to your body and your soul.
Great when you crave some comfort, healing or have cravings for sweets. Besides its alkalizing qualities, it is very soothing to the digestive system + has big immune boosting benefits.
It can be enjoyed as is, or use as a base for soups, stews or chili.
Mineral Rich Veggie Broth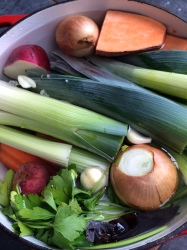 Ingredients:
3 unpeeled carrots, washed and cut into thirds
1 medium sized unpeeled yellow onion, chopped to quarters
1 leek, both white and green parts, washed and cut into thirds
1 bunch celery, including the heart and leaves, cut into thirds
1 unpeeled, washed yam or sweet potato, quartered
2 unpeeled cloves of garlic, crushed
2-inch ginger root, crushed
½ bunch fresh parsley
1 8-inch strip of kombu or kelp (seaweed)
8 black peppercorns
4 whole juniper berries
1 bay leaf
6 quarts water, cold and unfiltered
1 teaspoon pink salt
Directions:
Put all the ingredients into the pot, cover and put on high heat till it starts to boil.

Reduce heat to low/medium and simmer, covered, for about 4 hours.

Let it cool. Run it through a sieve and pour the broth to individual jars. Enjoy!!

Discard the cooked vegetables.
Let me know how you like it!!


Recipe is adapted from Rebecca Katz.