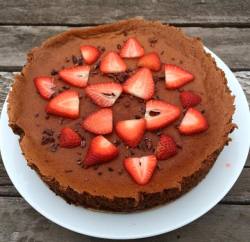 This dessert puffs like a soufflé when baked, then settles to become a rich, mousse-like cake. When slicing, use a knife dipped in hot water and then wiped dry. The heated blade will glide smoothly through the cake without sticking.
Serves: 12
Ingredients:
9 oz. semisweet chocolate, chopped (I like Enjoy Life brand or Sunspire)
3⁄4 cup coconut milk (Native Forest brand is recommended)
1 Tbsp instant espresso powder (I usually skip the coffee)
1 Tbsp pure vanilla extract
5 room temperature eggs
4-6 Tbsp coconut sugar (or according to your taste)
1⁄4 cup almond flour
Directions:
Preheat oven to 400°F. Coat 9-inch spring form pan with cooking spray. Wrap bottom and sides of pan in foil. Grind chocolate to coarse meal in food processor
Bring coconut milk to a boil in saucepan. Remove from heat, and stir in espresso powder. Pour over chocolate in food processor, and pulse until smooth. Add vanilla, and pulse until combined. Transfer chocolate mixture to bowl.
Beat eggs and sugar with electric mixer on high speed 5 minutes, or until doubled in volume. Fold eggs, then almond flour into chocolate mixture.
Pour batter into prepared pan. Set pan inside roasting pan, and fill roasting pan with 1 inch of hot water. Bake 15 to 20 minutes, or until dry crust forms on top but center is still slightly wobbly. Remove pan from water, and cool on wire rack. Refrigerate 2 hours, or overnight to set. Un-mold, and enjoy! This would be lovely with some fresh raspberries or raspberry sauce you make by pureeing raspberries in blender.
From Vegetarian Times March 2010 p.53