If you love pesto, this is a wonderful recipe that can be used over hot or cold pasta, as a dip, on sandwiches or in wraps, or as a garnish for Minestrone. If you happen to own a spiralizer ( a vegetable peeler ), you can use this as a wonderful topping for raw zucchini pasta.
These photos were taken at a recent raw food cooking class I attended with Raw Chef Dosa (Dorothy Salvatore). She gave me permission to post her recipe so you, too, can enjoy it.

Walnut Pesto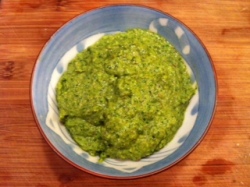 Ingredients:

4 cups basil leaves (stems removed), tightly packed
1/2 cup extra virgin olive oil
4 cloves garlic, crushed
2 teaspoons lemon juice
1 teaspoon Celtic sea salt
1/2 cup raw walnuts (or any raw nut of your choice)

Directions:

Place the basil, garlic, olive oil, lemon juice and salt in a food processor fitted with the S blade and process until the basil is chopped. Add the walnuts and process until smooth
.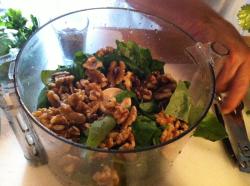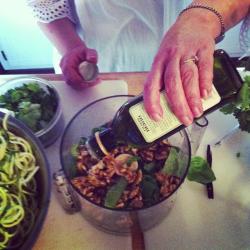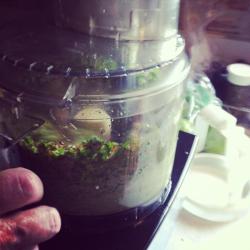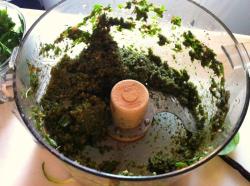 Stored in a sealed container in the fridge, pesto will keep up for 5 days.

Serve it over some brown rice pasta you cooked before. Another option is to make some zucchini pasta by using a Vegetable Spiralizer like the one you see here.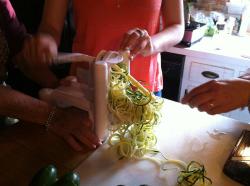 The investment is around $30-35 for a spiralizer like the one pictured above and there are 3 attachments that you receive with it. It is a fun tool to have.

You can also pick one up at the grocery store that is small and fits in your hand.

To make the fettucini, use this vegetable peeler (spiralizer) to peel the zucchini down to the core of seeds on all sides, forming long strips. Do not continue peeling once you reach the core of seeds. Toss the zucchini fettucini with enough pesto to coat. Place a small piece of zucchini fettucini on serving plate. Top with diced tomato and parmesan, if desired. (If you want this to be a totally raw meal, you can make a Raw Pine Nut Parmesan Cheese).


You can also warm this up and serve over brown rice pasta.

Or use it as a dip. I like to dip brown rice tortillas chips into it.
How do I make the chips?

Take a Brown Rice Tortilla and cut it into triangles. Then place some butter or ghee in a cast iron pan and heat until crispy. Enjoy!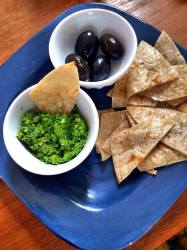 Enjoy!


Stay tuned for my upcoming SPRING CLEANSE program that has many recipes like these.