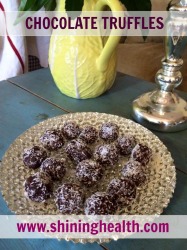 These treats are easy to make and delicious.

Makes approximately 15 small truffles.
Ingredients:
* 2 Tbsp to 1/2 C raw cacao powder (depending on how chocolatey you want them)
* 3-4 Medjool dates (soak in vanilla extract) OR 4-5 drops chocolate (or regular) liquid Stevia (NOT Truvia)
* 1 cup raw nuts of your choice
* raw cacao nibs and/or unsweetened coconut flakes for coating
Directions:
In a food processor, pulse the dates and nuts. Then add the cacao powder and process until it's not powdery; add a few drops of coconut oil or water if it is. Process until it's a smooth thick consistency. (If it's too powdery, add more coconut oil or water.) When you get the desired consistency, take out of the food processor and put in a bowl. This when you can add the coating. I like shredded coconut or cacao nibs. You may place a goji berry in the center of each truffle or some chocolate chips (like Enjoy Life brand). Roll into balls and enjoy!

Other additions: chia seeds, ground flax seeds, hemp seeds, spices such as ginger, cinnamon, nutmeg, clove etc.

You can also use raisins instead of dates or 100% pure maple syrup or honey.
Sign up for my weekly newsletter to receive health tips and delicious recipes like this: http://tinyurl.com/c3qxymm