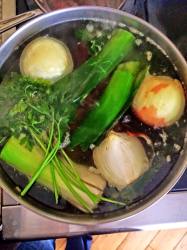 Bone broth is a wonderful way to get nutrients into your body. I like to use the carcass of a roasted chicken as a base. It is an easy and economical way to make chicken bone broth.
Ingredients:
Your leftover chicken carcass from roasting a whole chicken
1 onion, washed
1 leek (optional)
Celeriac root or 2-3 ribs of organic celery, chopped
2-3 organic carrots, chopped (no need to peel)
1 potato, chopped (great for extra potassium)
1-2 bay leaves
1 sprig fresh parsley
1 sprig fresh thyme
Sea salt & pepper to taste
No worries if you don't have all ingredients. Just go ahead & make it with what you have.
Directions:
After removing all edible meat from the chicken, put everything in the crock-pot, including the skin, bones, cooking juices, etc. You can reuse any veggies if you roasted them with the chicken.
Add the onion, celeriac root or celery, carrot and spices on top of the carcass and fill the crock-pot almost to the top with tap water. (Filtered water is best.)
Turn the slow cooker onto "low" after dinner and cook all night long.
After the stock is done cooking, turn off the heat and pour through a strainer to remove all herbs, bones, ... etc.
Either refrigerate or freeze the stock for future use.
I love to store it in Mason glass jars in the refrigerator or freeze them in ice cube trays for convenience.
Note: If you do not have a slow cooker, use a big stock pot. That is my personal preference.