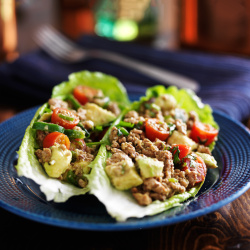 Thanksgiving is probably the biggest 'leftover' holiday of the year. If you still have a mountain of leftover turkey lurking in your fridge, here are some ideas and a few simple recipes for you to try without cloning mini-Thanksgiving meals for a few more days or making turkey sandwich after turkey sandwich.
I think when it comes to using leftover turkey one just needs to use his/her imagination.
In the past we have made our leftover turkey into soups, turkey chili, turkey fajitas, turkey lentil soup, turkey stir fry, turkey burritos, turkey and mango wrap, turkey sandwiches, turkey pot pie, turkey salad, turkey curry, turkey paella, turkey nachos.
These meals are easy to make and will save you time and money.
These are my favorites:
Turkey Soup
Ingredients:
2 cups leftover turkey, cubed

1 cup carrots, peeled, cubed

1 leek, sliced 1/4 inch, washed, drained (use white part only)

1 cup parsnip, peeled, cubed

1 cup potatoes, peeled, cubed

2 bay leaves

4 cups turkey broth

1 Tbsp parsley,chopped

Sea salt, to taste

Black pepper, to taste

2 Tbsp olive oil
Directions:
Add olive oil to your soup pot. Saute leeks for 2 minutes, stirring so it does not burn. Add all remaining ingredients EXCEPT chopped parsley. Stir to combine and bring to a boil. Reduce heat to a simmer and partially cover with lid. Cook for 30 minutes or until veggies are soft but do not wait till they are falling apart. Season to taste and add parsley before serving!
Turkey Burrito
Great idea for breakfast, too!
Ingredients:
3 Tbsp olive oil

2 red onions, sliced

2 bell peppers (preferably 1 red and 1 yellow), seeded, sliced

4 cups diced leftover cooked turkey meat

3/4 cup purchased fresh fire-roasted salsa

1 Tbsp ground cumin

1 8-ounce package cheese of your choice (we like org. sharp Cheddar)

3/4 cup chopped fresh cilantro

6 tortillas (whole-wheat, Ezekiel or brown rice ones are great options)
Directions:
Preheat oven to 300°F. Heat oil in large nonstick skillet over medium-high heat. Add onions and bell peppers; sauté until tender and golden, about 15 minutes. Add turkey, salsa, and cumin; stir until heated through, about 5 minutes. Stir in cheese and cilantro; season generously with salt and pepper. Remove from heat; cover to keep warm.
Working with 1 tortilla at a time, heat tortilla directly over medium-high gas flame (or in dry skillet over medium-high heat) until warm, softened, and browned in spots, about 30 seconds per side. Place tortilla on work surface. Spoon 1 cup warm turkey mixture along center of tortilla; fold sides in over filling, then roll up tortilla to enclose filling. Place burrito seam side down on baking sheet, and place in oven to keep warm. Repeat with remaining tortillas and filling.
NOTE: If this seems like to much work - just do the following:
Take your turkey and place it on a tortilla wrap. Add some cheese, salsa, guacamole, and whatever else that you like. Roll up the tortilla. Heat, eat, and enjoy!


5 Minute Avocado Turkey Lettuce Wraps

Ingredients:
4-6 romaine lettuce leaves
1 medium avocado, cubed
½ lemon, juiced
1 cup cooked turkey, shredded or cubed
Baby tomatoes
2 Tbsp chopped onion
¼ red bell pepper, diced
Cilantro, chopped
Sea salt and pepper to taste

Directions:
Cut avocado in half, remove pit and cut it into cubes. Sprinkle salt and pepper and lemon juice on avocado cubes. Mix with turkey, onion, baby tomatoes, cilantro and bell pepper in a bowl. Scoop mixture into clean, dry romaine leaves and en-JOY!
Turkey Fried Rice
Ingredients:
2 cups brown rice (leftover)

1/4 cup chopped onion

1/2 tsp garlic, chopped

1/4 cup chopped carrot and green pepper

1/3 cup diced leftover turkey

2 eggs, beaten and scrambled

2 Tbsp Tamari soy sauce (wheat free, low sodium) or Coconut Aminos

2 tsp unrefined sesame oil
Directions:
Heat oil in a pan. Saute the vegetables and diced turkey until soft. Add the cooked rice and stir well. Then add the scrambled egg and mix together. Reduce heat and add soy sauce and stir for a minute and remove from fire. Serve hot.
Turkey Salad
This salad is sooo easy to make.
Ingredients:
Diced or shredded dark and white meat

Diced apple or pear or jicama

Diced celery

Sliced fennel - if you like it

Bag of salad greens
For Dressing:
3 Tbsp aged balsamic vinegar (love this stuff!)

1 tsp Dijon mustard

1 garlic clove, peeled and crushed through a garlic press

3/4 cup extra-virgin olive oil

Salt and freshly ground pepper, to taste
Directions:
Toss all ingredients in a big bowl. Prepare dressing in blender. Add to salad, mix and season with salt and pepper.
Bon Appétit!