I guarantee that you will fall in love with these two recipes from my 7 day Fall Cleanse Program. They are so easy to make and definitely a crowd pleaser. Make it for Thanksgiving or any time during the fall or winter season.

Curried Butternut Squash Soup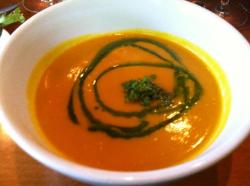 Yields: 4 servings
Ingredients:
1 butternut squash, seeded, peeled, chopped (you may also use acorn, pumpkin, delicata)

1 onion

2 cloves garlic

homemade veggie or chicken stock or filtered water

2 tsp curry powder

1 1/2 tsp cumin

Coconut oil
Directions:
Sauté finely minced onions and minced garlic in a little bit of coconut oil.

Add the spices.

Add chopped squash and fill with stock until just covered.

Boil until tender.

Mash or blend in blender until smooth and return to the pot to heat through.
To garnish:
You can add chopped fresh cilantro or parsley, and/or toasted pumpkin seeds for garnish.

I love to sprinkle dulse flakes (seaweed) and hemp seeds on mine.

Another yummy option is aged balsamic vinegar. Just drizzle on top and enjoy.

Or some cashew cream.
Roasted Butternut and Coconut Soup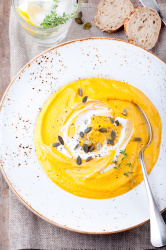 Yields: 4

Ingredients:
1 butternut squash

1 can coconut milk (Natural Value or Native Forest)

1 cup boiling water

1 sprig fresh rosemary, save 1/2 for serving

1 inch fresh ginger, peeled and grated

2 Tbsp raw apple cider vinegar

sea salt, to taste

black pepper, to taste
Directions:
Preheat oven to 400°F.

Cut the butternut squash into two and remove the seeds.

Place both halves on a baking tray, cut side down and bake for about 35 minutes.

The halves are ready when the skin is bubbly and slightly browned.

Remove from oven and let cool.

Scoop out the flesh and place it in a food processor or strong blender together with the rest of the ingredients.

Blend on high speed until completely smooth.

Add extra water if desired.

Season to taste.

Return to the stove top if you need to keep it warm.
Serve with with some home made cashew cream and enjoy. It looks and tasted divine!
www.shininghealth.com/pages/fall-cleanse