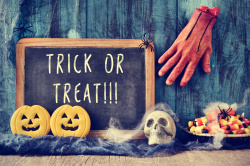 Halloween is here! National Sugar Overload Day - t
he day that officially kicks off the holiday season here in the US with its massive sugar highs, colds and hangovers.
Many of us have been facing the dilemma about what to do on Halloween day to reduce the kids' and sometimes or many times our sugar intake. Here are a few of my tips that I have used over the past few years.


Wait until Halloween Day to buy all that candy so no one is tempted to indulge beforehand. Especially if candy is one of your trigger foods. (I stopped buying candy all together because I ate it every single time way before the day has arrived.)
Don't purchase your favorite candy. If you are not ready to be the person who does not hand out candy on Halloween, at least buy candy that you do not care for. You'll be less tempted to indulge in them.
Sit down with your kids beforehand and decide what is a reasonable amount of candy they can keep on Halloween night and beyond.
Feed them a filling meal for dinner. This will ensure that they have stable blood sugar, plenty of energy and a satisfied belly. Make sure to include protein, good fats, some veggies and fruit. This step I consider the most important step. This meal will buffer the effects of all that sugar.(Sugar eaten on an empty stomach has a far greater effect.) I usually roast some chicken, serve it with their favorite veggies and brown rice. If you are too busy that day, make something ahead of time and reheat it - like a pot of turkey chili.
Bring along some healthy snacks and plenty of water. Water will keep them hydrated, flush out the toxins and keep their bellies filled. If it is cold, make some tea at home and bring it in a thermos.
Pass out non-edible treats like wiggly worms, pencils, erasers, tattoos, glow-in-the-dark bouncy balls, little trinkets, glow necklaces.
Show a good example by not eating candy while going from house to house.
Focus on the fun, not the candy. Put the emphasis on non-food activities. Like making your own costumes, checking out the decorations in your neighborhood, meeting up with friends and having a good time.
When you get home from trick-or-treating, give them something to eat with protein to help them with their sugar highs - peanut butter, some nuts or some leftover piece of meat.
Start giving probiotics to everyone in your family. Sugar kills good bacteria in your gut, allowing bad bacteria to flourish which will eventually lead to sickness.
Give everyone some extra Vitamin C - with Halloween season starts the cold and flu season and it has a lot to do with the amount of sugar we start to consume. Eating sugar and sweets will lower your immunity for up to 6 hours.
Understand how sugar works. Sugar is like a drug. Once you start eating it, you will want more and more of it.
Educate your kids:

take a big handful of candy and place it in a bowl. Check their sugar content. They are usually on the package, and if not on the mini versions, it will be printed on the larger package. Next to it measure out how much white sugar is equivalent to the sugar content of the candy you placed in the bowl. Here is what you need to know. Each teaspoon of sugar is 4 grams. Most kids will be shocked to see the result since they do not equate candy with sugar content in their minds. You yourself might be shocked!
Bonus Tip: Wondering what to do with all that candy? Throw it away. We have created a tradition years ago that the kids still look forward to. They get to keep about a dozen pieces of candy (chocolate to be more specific) and the rest is left out for the Candy Fairy to take during the night. She leaves some non-food gifts in exchange. Stephen is 15 and Sophia is 12 and they still like to play this game. Some parents call her the Switch Witch.
Want to detox all the sugar you have consumed this week??
I have the solution for you!

Participate in my last cleanse of the year. The Fall Cleanse program is designed to help you cleanse your major detoxification organs and also reset your metabolism. Check it out here.

To inspire you, I am sharing what one participant wrote in our private FaceBook group yesterday about her first cleanse experience earlier this month:

"I felt so good from your 7 day fall cleanse that I never stopped! I lost 11 pounds in the first 10 days, my joints no longer hurt and I have more evergy at 52 than I did in my 40's! I am now on day 25 and I look forward to the 90 day follow-up so I can make it through the holidays with less stress and better health and wellness. When I signed up for the cleanse I thought I was only gaining a week of clean eating. I never realized the amazing recipes, lifestyle, support, friends, knowledge and health I would receive as a result. Thank you, Csilla!