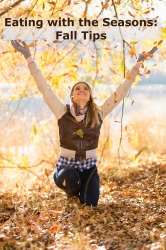 According to Traditional Chinese Medicine each season has a corresponding organ that is more strongly affected at that time .. and when you eat "with the season", you'll support the health of that organ in particular and the
body and mind as a whole.
The two organs related to Fall are the lung and large intestines. These organs are associated with the emotion of "taking in" and "letting go". Therefore fall is a great season to do a gentle detox.
The seasonal ailments related to fall and to those organs are: breathing difficulties and bronchitis, colds and flu, allergies, skin eruptions and constipation.
The key is prevention. When the human body is in harmony with the external environment, it can run more efficiently. If we eat in tune with nature - we will be able to sail through the fall season and prepare our bodies for a healthy winter. Despite the fact that many of us do not live according to nature, we are part of this universe. There are universal laws that we need to abide by to stay in rhythm with nature.
Here some valuable tips for you to keep healthy during this transitional time:
Cut Back on Raw and Cold Foods
If we continue eating cooling, summery foods (especially too many fruits and raw salads) as the weather grows colder, it can contribute to lingering colds, the flu, sinus infections and other maladies. According to Traditional Chinese Medicine these foods can create a cold/damp condition in the body and won't benefit our health during the colder seasons. Dairy products, such as milk, cheese, cream, and butter also create phlegm. Reduce the consumption of these foods. Raw, cold foods consumed in the fall and winter season can also weaken the digestive system and contribute to candida yeast overgrowth, a damp/spleen condition, gas, bloating, cold hands and feet, and other more serious ailments.
Eat Pungent Foods
Eat moderate amounts of pungent foods like garlic, onions, ginger, daikon radish, horseradish, and mustard. They are all beneficial to the lungs.
Dress In Layers
Our lungs are very susceptible to wind and cold. During the change in temperature, be sure to dress for the weather! It is a good idea to carry around a sweater or a scarf.
Eat with the Seasons
Root vegetables like carrots, sweet potatoes, yams, onions, beets, parsnips, daikon radish, burdock root, turnips, rutabaga and lotus root.

Whole grains like brown rice, millet , oats and barley.

Cool season produce like kale, broccoli, collards, Bok choy.

Pumpkins and squashes (winter, butternut, acorn, kabocha).

Consume more warming soups and stews.

If you want to buy fresh, local produce from your local farmers, check out www.localharvest.org to find nearby farms.
With the globalization of the food industry, it can be difficult to know what food is harvested locally and at what time of year. Some of the most beneficial (and delightful) fruits harvested in The United States during fall are: pomegranate (season: September- January), cranberries (usually harvested in October), and apples and pears (harvested in late summer / fall).
Use Fall Cooking Methods
Baking, roasting, slow simmering, pressure-cooking instead of grilling and stir frying.

Note that fruits can be cooked with cinnamon or cardamom to "warm" them and to prevent mucus formation.
Use Warming Spices
Pungent and warming spices are especially helpful in the fall season. They include ginger, cinnamon, cayenne, mint, horseradish, thyme, sage, coriander, basil, and black or white pepper. Ginger, coriander and cinnamon reinforce the sweet flavor of yams, carrots, sweet potatoes, winter squash and cooked apples.
Increase Protein Consumption
Add more protein to your diet which will help prepare your body for the cold winter season.
Keep Hydrated
It is important to remember this and drink tea or room temperature water to help your body remain hydrated.
Sleep
Make sure you get adequate sleep. Sleep will help keep your immune system strong, your blood sugar stable and supports your body's ability to naturally "detox". Chronic sleep depravation can actually lead to irreparable damage to our brains, prematurely aging it or setting it up for heightened vulnerability to other insults. So make this a priority.
Check out my upcoming REVITALIZE A 7-DAY FALL CLEANSE program that is chock full of delicious, easy to prepare meals that are all about seasonal eating. You'll receive 55 pages of recipes and lots of loving support from me and your fellow cleansers!
Click here to see the details.