Back in July I wrote a post about the importance of keeping our lymphatic system in great shape. (You can read it here.)
One of the easiest way to stimulate our lymphatic system is through dry skin brushing.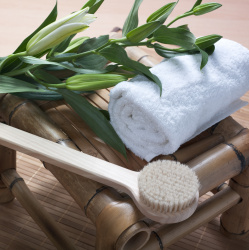 The simple practice of dry skin brushing will stimulate your lymphatic system, your hormonal and glandular systems and can be easily incorporated into your daily routine.
It ultimately helps ridding the body of toxins, since your skin is the second largest detox organ in your body.
Dry skin brushing is not new. It has been around for a very long time.
To get started purchase a soft natural brush (avoid synthetic ones). Ideally one with a long handle so you can get to those hard-to-reach spots.
Ideally you want to do this practice before you take a shower so yours skin is dry. Most people brush their skin in the morning, but you can also do this in the afternoon.
How to do it:
Start with circular brush strokes at the soles of the feet then move up the legs and torso towards the heart.

Next move up the arms by starting at your hands and brush towards your heart.

Then do your back and then the neck brushing towards your heart.
Use light pressure on delicate areas and avoid brushing your face. The key is to always move the lymph towards your heart.

Brush with as much pressure as it feels comfortable for about 5-10 minutes.
Follow it with a shower or bath to get rid of any debris.

I personally love to finish my showers with alternating hot and cold water. I have been doing them since I was a teen. I invite you to give it a try and experience the positive changes it can bring to your health and overall well-being. Remember to always finish with cold water.
It is suggested to wash your brush with warm soapy water periodically and letting it dry in a warm spot.
The many benefits of daily dry skin brushing:

creates beautiful, glowing skin
decreases cellulite since it contributes to re-distribution of fatty deposits on the skin's surface (ideally you want to clean up your diet, too, if you want to see cellulite decrease)
supports your immune system
prevents puffiness
rids your body of metabolic waste
helps you wake up in the morning
aids digestion + kidney function
improves muscle tone
increases circulation to internal organs
protects you against breast cancer and lymphatic congestion
Do you practice skin brushing? If, yes, what changes have you noticed in your body since you started?
Please, share below in the comments section.
Is this concept new to you? Give it a try for 30 days and let me know how it improved your well-being.
If you have done any of

my seasonal cleanses

, you know I am a big fan of dry skin brushing and have been doing it myself for years. It truly
works!!!